Discover more from Mike in NYC
A Canadian consulting, running and eating plants in the Big Apple
Summer Recap part 2
The warm season rolled on with weddings, travel and visitors
The back-half of the summer was jam-packed with the value of family and friendship across multiple state lines and country borders.
Boston Friends
We planned to take the train out to Boston to visit Kaveri (former consulting colleague and good friend) and her family for a relaxing weekend in their beautiful suburban house to close out July.
What we didn't know was that the festivities would begin a day early when Kaveri's work travel was re-routed through New York. We met her in the West Village late Thursday night for a couple night-caps, then she stayed at our apartment and we all worked together on Friday before grabbing the 3.5 hour train to Massachussets.
It was great to catch up, play soccer with her son, explore the Boston Seaport district, and enjoy a delicious fancy brunch at The Langham.
Walking the Length of Manhattan
Although it's become a bit of a social media trend over the last six months, walking Manhattan from tip to toe is something I've always wanted to do.
In August, our friend Allison was visiting NYC and was down for the adventure so we took the subway up to 215th St. station in the Inwood neighbourhood. We grabbed some bagel sandwiches from an Inwood deli to fuel our day, and we began walking south.
Roughly 9 hours later, after many snacks and water bottles had been consumed, we arrived at Battery Park, staring at the Statue of Liberty. The entire trek was about 17 miles of walking, stopping along the way to see the sights, take pictures, grab a patio beer, and anything else that entered our minds. It was an exhausting but super fun experience.
Trip to Winnipeg
Lynn had a bachelorette party to attend in Georgia that conflicted with this trip, so I entered the homeland alone and was excited to take the week off work. It allowed me ample time to hang with my parents, see friends, play golf, and attend my friend's beautiful backyard wedding. Dan and Finn also came to Winnipeg for the second half of my visit, so as always it was so much fun hanging with them.
A few highlights from Winnipeg included:
Hanging at my parents' condo, relaxing on the balcony, and catching up on all the adventures they have planned.

Taking Finn to the zoo

Attending the Manitoba Children's Hospital Foundation HQ for a tour and cheque presentation, celebrating our Fantasy Football League's contributions over the past couple of years

Attending our Fantasy Football draft to catch up with all my buddies

Playing in the Breezy Bend Member Guest with my dad

Playing Wednesday night men's night with the boys

Catching up with a few friends over a run (rather than just food or drink) - thanks Bevy and Yacine!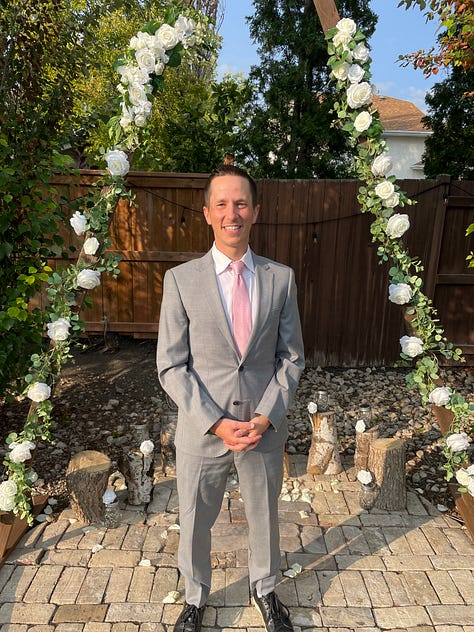 Parental Visitors
Upon returning to NYC from Winnipeg, it was a quick transition into hosting mode. Lynn's parents arrived four days after I returned and, despite a wonderful two week visit, my Luxembourgish remains at the level of a newborn elephant. We walked endless miles, made delicious food, analyzed wine, and watched the US Open Tennis both live and on TV every single day. It was super exciting as Ben Shelton (the son of Lynn's university coach) made it all the way to the semi-finals. Lynn's parents went to the Open 4 times, Lynn twice and me twice, which is always a blast.
A week after they left, Dave and Dwenda arrived for a three night excursion in the city. We also walked a ton, explored Central Park and our local wine bar, toured the MoMA (which was actually really cool), had some NYC street food, made martinis, and capped it off with a fantastic broadway show: & Juliet.
Twin Cities
Lynn and I headed to Lake Elmo, Minnesota for the last weekend of September for a long overdue hang with friends from our time in consulting. Jake and Grace are expecting their first baby and just moved into an amazing new house, so it was fun to experience their life for a weekend. They hosted a chili cook-off for some of their friends which was really fun, we went for several walks around their man-made lake, played with their dog, and enjoyed barbecuing and catching up over beers.
North Carolina Wedding
Four days after returning from MN, I took off Thursday and Friday to attend a wedding for one of Lynn's good friends in Highlands, North Carolina (I had never heard of it, either). We flew into Asheville and got a sneak peak of that city by renting a car, and grabbing lunch at a local restaurant/brewery in West Asheville. I definitely want to go back to Asheville; it's one of those cities with the perfect combination of landscapes (mountains, trails, forests), breweries, and passion for outdoor activities. It seems really similar to a Portland, Oregon or an Austin, TX in that sense; and I love that hipster-vibe type of city.
After lunch we drove the two hours to Highlands which is in a beautiful area. While not in the Rockies, the main street in the town reminded me of a Banff or Clear Lake. Cozy local coffee shops, pubs, restaurants, and shops.
As we unpacked and got ready for the Thursday night welcome dinner, I realized I left my suit bag (containing my suit for the wedding and my blazer for the rehearsal) ON THE PLANE! Lynn acted quick as always and we were able to get ahold of someone at the tiny Asheville airport, then coordinate with one of Lynn's friends to pick it up before they came to Highlands. It all worked out in the end, but caused a bit of stress and was a classic Mike Arnold amateur move, despite it being my ~40th flight of the year.
All three festivities (the welcome dinner, rehearsal dinner, and wedding) were fantastic. Beautiful venues, great couple and company, and lots of laughs.
Work Travel Updates
August included a manager training here in NYC which was awesome to catch up with so many friends across the company, including those from Israel. I also went to Hartford for some meetings in early August which ended up being both a great professional experience and a hilarious flood of memories, being back in downtown Hartford for the first time in years.
September included a hosted event in Providence, Rhode Island, then I went to Chicago for a team meeting, charity dinner, and the Chicago Heart Walk.
After the wedding in North Carolina, I went straight from the Asheville airport to Las Vegas (my 21st trip to Sin City) for the largest healthcare technology conference of the year. Again, it was great to hang with our entire partnerships team, meet a ton of people on the conference floor, and host some of my existing partners at our night events. Yes, it was work, but it included a concert in a night club, and a hosted after-party on floor 108 at the top of the Strat hotel! Feeling lucky!
I now have two weeks to buckle down until the NYC marathon, and to get ready for a bunch more work travel to close out 2023 strong! I'll try and make these blogs more frequent so I don't need to distill each fun experience down to a single paragraph.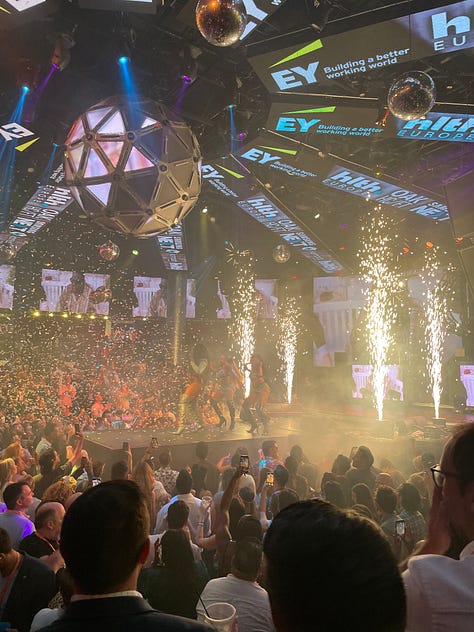 Thanks for reading!
Mike