Discover more from Mike in NYC
A Canadian consulting, running and eating plants in the Big Apple
London Was Calling
Exploring the English capital and experiencing Arsenal over Christmas holidays
I'm way overdue to write a blog about my trip to England in December 2022, but not only has life been crazy, the emotional roller coaster that occurred during the trip required a period of reflection before trying to explain it via my keyboard.
The genesis of the trip occurred during a random Sunday in New York City when Lynn and I were out wandering through the Upper West Side. We stopped at a local watering hole around 3:21PM to enjoy the July sunshine, knowing that patio season didn't last forever.
Thanks for reading Mike in NYC! Subscribe for free to receive new posts and support my work.
We began discussing Christmas over a couple of New York pilsners when I realized I had no real plans during the holiday season. I had always been drawn back to the frigid prairies during Christmas to see my Granny, so this year was different. Plus, knowing I'd see my parents in Palm Springs in February, we were left to decide where to vacation and potentially ring in the new year.
Then we remarked how weird it was that Lynn, a born-and-raised European, had never traveled to London, one of the premier cities in the world (and one of my favourites). Naturally, she started looking up flights, and I started looking up Arsenal's schedule for the upcoming season. What I Googled was almost too good to be true. Arsenal had a home match in North London on Boxing Day (a very busy day in the Premier League Season), and an away match at Brighton & Hove on New Year's Eve!
Coincidentally, my Uncle Jon and Aunt Sue live just a 7-minute train ride from the Brighton stadium so the stars were aligning. After a couple emails and Zoom calls with my uncle, we booked flights a couple weeks later.
Fast forward to Christmas Eve in NYC and we woke up to the coldest day (no exaggeration) I've experienced in my four years in the city. It was -20C with the windchill and our flight left JFK at 7pm. After shivering through a walk to lunch, we headed back home and Ubered to JFK to take advantage of our lounge access (thank you consulting, for the flight status). After a few friendly beverages, snacks, and meals (the JFK Virgin Airlines lounge is incredible), we were off.
We landed at Heathrow just before 7am on Christmas Day, which is a strange experience. England still takes Christmas and Boxing Day very seriously, in fact, the tube (London's underground) is completely shut down on Christmas Day. This blew my mind as I was picturing the chaos that would ensue in Manhattan if the subway ever shut down for a full day. Thankfully, we quickly hailed an Uber and when we arrived at our boutique hotel near Tower Bridge in Central London, our room was available and we could nap off the jet lag.
We woke up at 4pm and knew that was going to be horrendous for our sleep for a few days, but we felt more rested. We walked along the Thames, admiring all the closed restaurants and pubs, then finally settled on the bar in our hotel for a nice Christmas dinner!
Ironically, I opened my eyes on Boxing Day feeling like a little kid on Christmas. I hadn't seen Arsenal in person for 18 years! Looking back, I may have seen the Club during the pinnacle of its 137-year history when I saw their final game of the 2003-04 season at Highbury, capping off a record-breaking season that saw them go undefeated to win the league. But I was ready for a new introduction – I hadn't even been to the new stadium that they've played in since 2006!
The ticket acquisition process for the two games I attended deserves its own diversion from the blog. For those of you not familiar with English football (soccer), it's generally regarded as the best, most wide-reaching, league for the world's most popular sport.
For some context, I'll use social media as an imperfect gauge on demand: we all are aware of America's obsession with the NFL, where a team like the Dallas Cowboys (one of the most popular in the country) has 4.4M Instagram followers. Despite the US having five times the population of the UK, Arsenal has 25.5M followers, just shy of the official NFL Instagram account (27.2M) for the ENTIRE LEAGUE!
With that sort of reach, and only 19 home league matches per season at Emirates Stadium which houses 60k supporters, the demand for tickets is crazy. It's even higher (obviously) when the team is doing well, and I happened to show up as they were top of the league. In fact, they're still top of the league as I write this.
All things considered, I'm extremely lucky to have my dad's cousin, Peter, as a long-time season ticket holder to navigate me through the ticket procurement process. During this trip, unfortunately Peter and his family were away from England for the holidays. From a visiting standpoint, that was very disappointing as I hadn't seen them since 2014, but from a football standpoint, he was gracious enough to offer me his season ticket to the home match and set us up with one of his friends for the away match at Brighton. Thank you, Peter!
Lynn likes Arsenal, or at least hopes they do well so I'm in a nice mood, but the Boxing Day ticket was a bit extravagant for her fandom, so I took the tube to the Emirates Stadium to experience Arsenal on my own. Kickoff was at 8pm so I arrived in North London around 6pm to absorb all the pre-match festivities. First up was the Tollington Arms. Just around the corner from the stadium, it's one of the classic spots to grab a pint before the game; in fact, you actually need a ticket to be let in on match days!
It's hard to explain the atmosphere, but I've been telling people this: I've lived in Toronto which is hockey-crazy for the Leafs, particularly considering the media presence and pressures. I've been in bars outside the Leafs arena, even when they're doing well, and this doesn't even compare
First of all, the Tollington was packed. The bar is huge, but it was jammed. Every person in there was a fan (like I said, you required a match ticket for admission), and the majority of the time you're chanting the various Arsenal songs in unison, while trying not to spill your beer. In addition, EVERYONE is talking about Arsenal and football. In all the conversations I joined or eavesdropped on, the only topics I heard were tactics, lineups, match schedules, and reminiscing about past games against this opponent.
About an hour before the match, I walked over to Emirates Stadium. It's a magnificent structure, standing out like a spaceship in an otherwise-residential area of North London. Its presence sends chills down the spine as you walk through the gates.
Peter's seats are in Club Level which includes a fancy restaurant for diners before and after the match, beautiful seating and suites, and some incredible concessions. Walking into his seats was mind-blowing: they're right on the half-way line, with a "better than tv" viewpoint of the entire pitch. I was in heaven. To my right, using Peter's second seat via the ticket exchange, was a man from New Delhi who had flown over to attend his first two Arsenal matches that week. To my left were Peter's friend and his son who occupy those two season tickets, as I came to learn.
Another great thing about English football is that you can't drink in the stands. This adds to the fact that everyone who is in attendance is there to focus on the match. It heightens the intensity and the drama of each kick of the ball, compared to an NFL game which is slow and boring and only tolerable while slugging Bud Lights in the stand and half-heartedly watching some plays.
Arsenal were playing a fellow London team, West Ham United, and actually went down 0-1 due to a penalty kick in the first half. During halftime, I was a bit concerned, but still confident given how much Arsenal had been dominating possession.
Sure enough, in the second half, they came out firing, scoring beautiful goals in the 53rd, 58th and 69th minutes, eventually winning 3-1. My heart was full, my voice was sore, and I was on top of the world!
After leaving the stadium, I poured out into the Islington streets with the other 60,000 fans, trying to find public transportation to the West End where Lynn and her brother - who flew over from Luxembourg - were having dinner.
Following a double-decker bus ride and a couple tube stops, I met Lynn and Dany at a restaurant near Chinatown and brought my enthusiasm and energy from the big win. We grabbed a couple pints at a nearby spot and I regaled them with what I had just witnessed across town. It was great to see Dany and catch-up since I last saw him in France in June.
The next three days included "full English" breakfasts at our hotel, sight-seeing all over London, shopping, eating and drinking. We explored along the Thames, Shoreditch, Carnaby Street, Picadilly Circus, Trafalgar Square, Covent Garden, Westiminster Abbey, Buckingham Palace, and the Houses of Parliament . We ate vegan food from an incredible market of local pop-ups inside container ships, and shopped with the tourists on Oxford Street.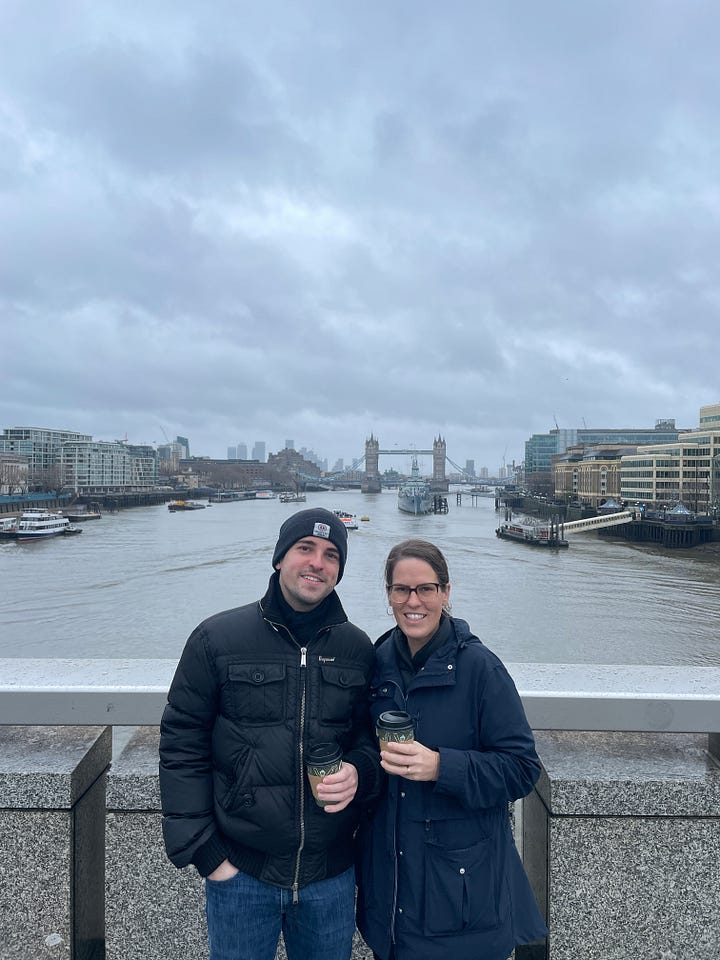 A major highlight was a delicious restaurant called Kerridges inside a swanky London hotel that we didn't know was so fancy until we arrived. After a delicious dinner, we grabbed a nightcap at the hotel's speakeasy which offered live jazz and an incredibly artistic cocktail menu. On our last night together, we walked to the local pub near the hotel and experienced a proper English pub night: good beer, homey setting with candles and comfortable furniture, great home-cooked food, and awesome service, all wrapping up by 10:30pm. We even grabbed one of their many board games on hand to elevate the experience.
On Thursday, Dec. 29th, Lynn and I bid adieu to Dany from London Bridge train station: he was off to Heathrow to fly back home, and we were off to Lewes! More to come!
Thanks for reading Mike in NYC! Subscribe for free to receive new posts and support my work.